Infrared Fractional Laser  Eye Wrinkle Pouch Pock Stretch Marks Scars Removal Machine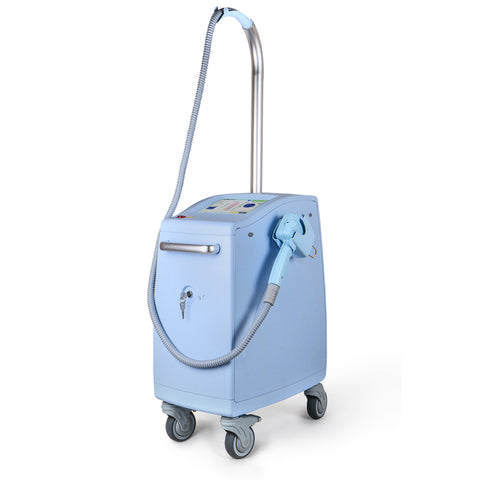 Therapy Principle
Due to Non-invasive Intermediate Infrared Fractional Laser system with a wavelength of 1550nm, the Spot diamteter is 50um-2000um. It can make effect on the deepth of skin lower than 2mm with just 0.08-0.1mm minimally invasive spot. No wounds, no scabby, colorless.
Due to It applies thermal pulses deeply into the derma through the epidermis, where they are absorbed by the water in the tissue and leads to high temperature inside tissue. After tissue is heated gently, and results indecomposition of cell, while the skin surface is undamaged.
Because the laser's intense thermal energy selectively destroys the sebaceous glands in the skin and stops their over production. So It activated growth of antibacterial oxygen species and suppresses bacterial growth. 
So The thermal energy stimulated the neo-synthesis of collagen in the connective tissue in deeper skin layers. Not only Small scars, wrinkles and the pore-size are reduced. As well as The whole complexion looks tighter and fresher. New collagen tightens and refreshes the skin. However the skin surface itself is not affected by the treatment at all. However It's reliable, non-invasive and achieves long-lasting results.
Advantages
- Color touch screen
- Fast and convenience software control
- Reliable and powerful laser with high efficacy
- Safe & comfortable treatment with minimal downtime
- Remarkable results after the non-ablative laser treatment
- Do what you like and go where you want after the treatment
- Shorter treatment time, long-lasting results
- No needle, no wounds, no scabby, colorless
Application
Wrinkle around eyes, forehead wrinkles, fish tail lines
Wrinkle on the neck,laugh lines,droopy skin
Improving pouch, black eye,acne scar
stretch marks, flaccid skin after the pregnancy,sun damage recovery
Leading in medicine and essence
promoting the hair to grow
Repair of sun damaged skin on the face, neck, shoulders and hands
Feature
1. Safe: no energy emits if not starting on the emergency switch.
2. Professional result: 1550nm Intermediate Infrared Fractional Laser ensures the amazing results same as getting from salons..
3. Convenient: energy emits automatically by intelligent displacement system, simple to use it anytime.
4. Fashion: streamline design and smooth to touch, brings you a brand – new and fashionable beauty life style.
5. Saving-money: one-off investment equal to the cost of a treatment in salon realizes continual professional results at home
Technical specifications
Power supply input: AC220V±10%、50Hz、AC110V±10%、60Hz
Laser type : Intermediate Infrared Fractional Laser
Spot number: square:
36(6X6);144(12X12);324(18×18);576(20X20)(/cm2)
Output wavelength : 1550nm
Voltage 10w
Pulse width:0.1ms~1000ms
Cooling system:Air Cooling 1550nm laser
Treament Heads:three heads (20/30/50mm )
Display screen:10.4 inch color touch screen
Output spot pattern: triangle, square,rectangle,DIY shapes