Model:SR-NV1606
Dermabrasion 19 In 1 Ultrasonic BIO Face Lift Equipment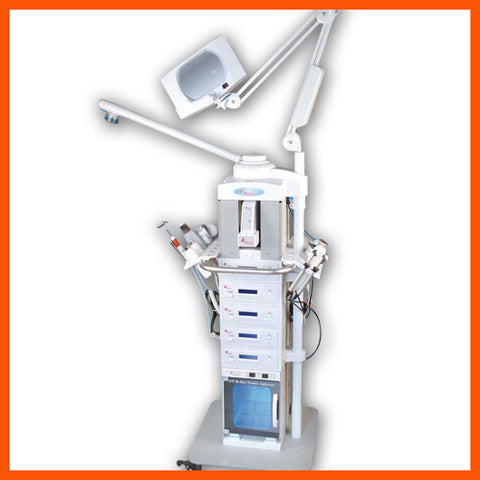 Functions
1,Diamond Dermabrasion(CE Approved)
As we know, It provided a non-surgical skin refinish procedure, by using sterile diamond heads to abrade or rub off the top skin layer, then vacuuming out the particles along with any dirt and dead skin back
up. Diamond Dermabrasion can treat:
Aging and sun-damaged skin;
Some types of acne scarring and acne;
Altered pigmentation;
Stretch marks;
Fine lines;
Enlarged and clogged pores.
2,Ultrasonic
- Smooth wrinkles and firm the skin .
- Reduce puffiness around the eyes .
- Stimulate blood circulation and increase metabolism .
- Whiten black spots, freckles, and aged marks .
- Facilitate the absorption of skin care products .
- Relaxes tensed muscles and reduce inflammation .
- Improve the rate of lymph flow.
-It has 2 Probes, the big one is for body ,the small one is for eyes.
3,Skin Scrubber
- deep clear and clean up aged horniness .
- reduce melanin to get a whiten skin .
- deep fine wrinkle and make skin young and soft.
- improve blood circulation and lymph metabolism .
- make skin immediate glow and regrow.
- accelerate the absorption of nutrition .
- no side effect for any type of skin.
4,BIO Face Lift
Microcurrent is a low level of electricity that mirrors the body's own natural electrical impulses. It is not only A microcurrent face lift is a non-surgical, but aloso non-invasive cosmetic technique that safely and effectively improves the health and appearance of the skin.
Functions 1
It is also referred to as a BIO-ultimate face lift. When used in conjunction with specialized products a manual manipulations, these tiny microcurrent impulses encourage your body's currents at a cellular level.
Functions 2
The signs of aging are greatly reduced, while skin tone and elasticity are dramatically improved. These relaxing applications may be enjoyed as a one time, comprehensive facial, or in a series of applications to reach your optimal goals, as well as enjoy enhanced longevity of results. 
5.Hot&Cold Hammer
Firstly, the cold treatment function is specially designed for calming down the skin after peeling. he skin is sensitive after peeling treatment, so the cold treatment procures is necessary. The hot treatment function is designed for opening pores before cleaning the skin and accelerating the absorption of nutrition.
Hot surface temperature is up to 42°C .
Cold surface temperature of the device can be down to 0°C.
Make face skin tight, smooth and delicated.
Enhance to help blood circulation, metabolism and relaxation.
Strengthens collagen; enhances elasticity.
6,High Frequency
-An ultraviolet instrument that sterilizes , so it can increases blood flow and circulation in the skin. This unit stimulates the skin, while killing bacteria. At the same time,Perfect treatment for acne.
7,Galvanic
Because of Penetrates the skin surface thru electrical current. Such as, The galvanic machine helps creams and solutions penetrate deep into the skin.- Different skin conditions show up in various shades of violet. For example: Dehydrated skin shows up as light violet, while for the hydrated skin, bright fluorescent violet.
- In addition, The Wood's lamp can help to analyze differernt skin conditions: Thick skin vs. Thin Skin, Horny layer of skin and dead cells, Normal andhealthy skin, Oily areas of the face, and Sun damage, pigmentation and future age spots.
8,Vacuum
Firstly, Vacuum deeply makes the skin clean and remove the acne. In addition, It works to suction out the deeply embedded dirt, grease and other impurities.
9,Spray
-Refreshing mist used after a treatment. For a refreshing experience use with scented water or essential oils.
10, Hot Cabinet
- hot towel warmer, with the capability of holding up to 18 towels.
11,UV Sterilizer
Not only Ultraviolet rays provide complete sterilization of bacteria on glasses, But also brushes, and accessories of any kind of skin care manicure and pedicure instruments.
Specifications
Packing Size: L120* W54* H54
G.W.: 50kg
Power: 1100W
Voltage: 110V/220V