Model:SR-AT-01
Portable 2 Probes 1Mhz Ultrasonic Skin Rejuvenation Anti Wrinkle Household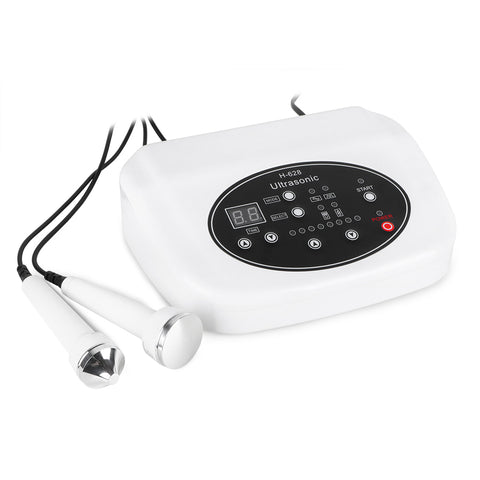 Principle
1. By the high Frequency vibration (1MHZ), generate ultrasonic with strong penetrability. It is a special instrument that could radiate an alternate wave and spread around. It is much stronger that the normal sonic wave, with high frequency, good directive, strong penetrability and great expand ability.
2. Because of the high frequency vibration, it will do soft and micro massage to skin cells, accelerate the blood circulation, facilitate the metabolism, active the cells and improved the adsorption of nutrition.
3.High frequency micro massage could eliminate the aged cells,expel the toxin and fine the wrinkles. Accompany usage with cosmetic product or medicine,it could treat and improve the skin problems.
4, The Frequency of ultrasonic could also generate resonance vibration of the cells, consume the fat and improve water absorbing capacity of cells, rejuvenate the skin and recover the elasticity.
Advantage
1. Adopt the top ultrasonic liposuction technique in the world.
2. Suitable for all kinds of skin.
3. Comfortable, painless, no wounds during the treatment.
4. Easy operation, easy study.
5. Non- exhaustion, low cost investment and quick high returns.
FEATURES:
Free operation, . non-anesthesia.
No ruggedness.
No bleeding, timidness and bruise.
No side effects, good effects, no rebounding phenomenon.
No wounds, will not influence the normal working and living.
Parts
A full beauty treatment set includes main machine, face beauty probe, eye beauty probe, which meets your different beauty needs.
Ultrasonic importing is much stronger than normal sonic wave, high frequency, good directivity, strong penetrability and great expandability.
Two working modes: continuous working mode and discontinuous working mode.
High definition screen for your easy checking of time to prevent overtime treatment.
8 level working intensity can be chosen according to the treatment object and area.
Cooperated with skin care essence contributes to deep leading in the skin and promote skin effective absorption so as to keep skin white, young, elastic and tender.
Using this machine on face detoxification, removing wrinkles, lifting skin, smoothing fine lines, whitening and hydrating etc.
Suitable for home or professional use.