-We offer 12 months warranty time for the main machine, 3 months warranty for the handle and screen.Click to view details.
Model: SL-EMT7
2021 Hot Selling Virtually Painless Fat Burning Targeted Muscle Development Hiemt Device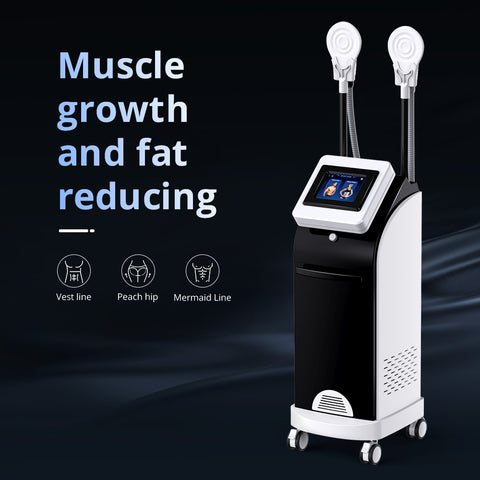 Principle
Using HI-EMT (High Energy Focused Electromagnetic Wave) technology to continuously expand and contract autologous muscles and carry out extreme training to deeply reshape the internal structure of the muscle,that is, the growth of muscle fibrils (muscle enlargement) and produce new protein chains and muscle fibers (muscle hyperplasia), so as to train and increase muscle density and volume.

The 100% extreme muscle contraction of HI-EMT technology can trigger a large amount of fat decomposition,Fatty acids are broken down from triglycerides and accumulated in fat cells.The concentrations of fatty acids are too high ,causing the fat cells to apoptosis, which is excreted by the body's normal metabolism within a few weeks. Therefore, slim beauty machine can strengthen and increase muscle, and reduce fat at the same time.

Useage
-Building muscle and reducing fat
-Improving abdominal muscles
-Exercising the hip muscles
-Shaping vest line & mermaid line
-Activating the collagen regeneration
-Tightening the loosened pelvic floor muscles
How To Use
-Good result —— 30 minutes treatment= 20000 workouts, increase 16% muscle and reduce 21% fat after about 2-4 courses
-Non-invasive, no side effects and painless
-7 Tesla High Intensity——cover big skeletal muscles, and remodel its inner structure.
-Patented cooling system——support long time operation
-2 magnetic applicators——break down fat deposits and increase muscular tone and strength
-Targeting 5 body parts——abdomen, arms, hips, hamstring, thighs
-Progressive step training——improve the feeling and effect of actual exercise
-5 training modes: HIIT, Hypertrophy, Strength, Combo 1 HIIT+ Hypertrophy , Combo 2 Hypertrophy + Strength
Cautions
- Don't operate the machine on the electriferous floor.
- Other people DO NOT touch the electrode flat when the machine is operating.
- Other people DO NOT touch the operator and customer during treatment time.
- The operator and customer DO NOT be with the metal decoration during in treatment time.
Contraindications
Patient with a pacemaker
Pregnant or lactating women
Patients with a heart attack or a weaker heart
Those implanting implants in the body
Those people with cerebrovascular disease (stroke patients)
Those with brain damage or previous brain surgery
Do not operate near the carotid artery
Those people using implantable medical devices
Packing List
1 x Main machine
2 x Handles