Model:YH-5303
3D Smart Radio Frequency Vacuum Diamond Dermabrasion Sprayer Machine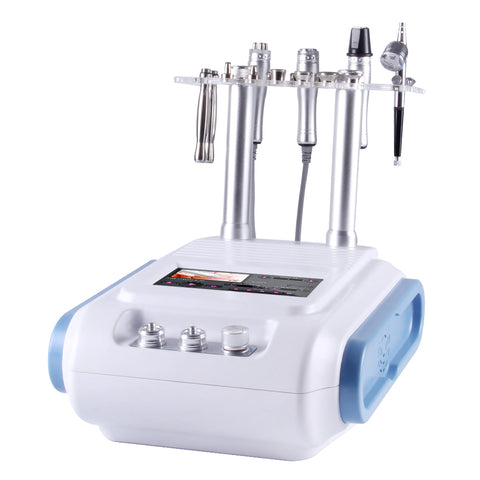 Description
3D Smart RF
This RF face eyes' around treatment is aimed at further forcing the excretionof triglycerides and skin tightening with Quadruple or Bipolar 3D SMART RF &Photon,The treatment is both anti-ageing and relaxing, resulting in long lasting youthful looks. The device significantly improves skin texture whilst reducing wrinkles and fine lines as well as creating a noticeable clinical effect from the very first treatment.

High-power SMART Quadruple &Bipolar RF (radio frequency) currents preferentially and intensively heat the sub-dermis (where cellulite is located), exerting a triple slimming/tightening effect on the cellulite tissues. Specifically, these currents:
A- Immediately shorten the existing collagen fibers, thereby offering an immediate skin tightening/lifting effect.
B- Stimulate the fibroblasts to produce new collagen and elastic fibers, thereby offering a separate skin tightening effect.
C-Stimulate the adipocytes to release fat into the bloodstream and physically damage a number of them (adipocytes are very "fragile" cells, in comparison to fibroblasts or other tissue cells).

Simple Treatments - Incredible Results

Quadrupole 3D SMART RF with Vacuum+Photon treatment is a non invasive anti-aging treatment provides results you can see
99%-- Excellent comfortable without any electric shocking and pain feeling
95% - Immediate treatment results and extremely satisfied
91% - Extremely satisfied and experienced long term treatment results
86.4% - Skin lifting effect started from the first treatment
77.3% - Noticed dramatic skin texture improvement
63.64% - Smoothness improved in skin and reduced wrinkles and fine lines

Application: Forehead--lift brows and tightens forehead skin
Cheeks--lifts slightly and diminishes enlarged pores,lifts the upper cheek skin
Mid-face,Jaw line --diminishes jowl and sagging along the jaw line
Recommend Treatment Time:
It is recommended at 12-15 minutes a day, 2-3 times per week, for 6-8 weeks. This will significantly reduce fine lines and facial wrinkles providing an improved skin texture with long lasting results that you will adore.
Bipolar 3D SMART RF with Vacuum
The use of bipolar SMART RF( radio frequency) with an associated vacuum device allows for precise deep dermal heating of the collagen followed by collagen remodeling. It has been successfully used in clinical trials for the treatment of rhytides and skin laxity.The heat generated by passing RF energy through the skin shrinks dermal collagen and promotes the formation of new collagen.The vacuum suction element confines the heating effect between two RF treatment electrodes for greater specificity. The treatment head is connected to a vacuum pump that draws the skin between two parallel sets of electrodes located in the tip. High frequency electrical (SMART RF) current is passed through the skin. A flat surface delivers current more efficiently, so suction induced skin deformation provides an effective contact. As such, the SMART RF treatment depends somewhat on the thickness and coarseness of the skin in the target area. This mechanism induces mechanical stress on fibroblasts, leading to collagenesis and possibly a more dramatic improvement of the acne scar.

Features:

1 Discomfort during treatment was minimal and adverse effects were limited to mild and temporary erythema.
2 The bipolar SMART RF with vacuum devices appears to be a safe and effective method for reducing mild to moderate facial acne scars.
3 The technology that vacuum folds skin makes SMART RF energy penetrate a specific folded skin, greatly improve effect and safety, even for the
upper eyelid area treatment.
4 The synergistic combination of mechanical stress and conducted SMART RF energies increase the oxygen intracellular diffusion by heating the s kin result in refresh skin
5 Vacuum leads SMART RF penetration to be even 5-15 mm. At the same time, Vacuum mechanical tissue manipulation nips and stretches fibrillar connective tissue, effectively breaks down subcutaneous fat as well as extruded capillary vessel, Increase lymphatic drainage,promotes
metabolism and reduces or shrinks the size of the actual fat chamber and greatly improved body contouring effect.
Dermabrasion
Dermabrasion Microdermabrasion Skin Rejuvenation
Dermabrasion procedure offers patients a non-invasive and full scope exfoliation treatment that is comfortable and above all, a rewarding aesthetic experience. Since microdermabrasion is based on mechanical exfoliation, the results are immediately visible after the first treatment, making way for smooth, softer skin and a refreshed complexion.
Microdermabrasion offer a high-quality treatment that exfoliates the skin and whisks away dead cells from the skin surface.
The tips was designed with a specific coarseness grade and tip size to allow a wide range of treatment options, allowing you to reach the crevices around the nose and hairline to exfoliating larger body surfaces such as the decollete and buttocks.
Target Treatments
• Aging skin including eye areas, hands and large body areas • Acne and trauma scars • Congested & oily skin • Blackheads and whiteheads
• Ingrown hairs • Hyper pigmentation • Minimizes Appearance of fine lines and wrinkles • Crow's feet • Cellulite and stretch marks •Age spots
• Uneven skin texture and glow • Enlarged pores • Blemishes • Removal of dead and flaking skin cells while simultaneously stimulating production of healthy cells, collagen • Significantly assisting penetration of therapeutic and cosmetic solutions for enhanced treatment efficacy and results
• Effective treatment of hard-to-reach, large and sensitive skin areas


Vacuum Spray Diffuser for Cooling and Hydrating Effect.
Make liquid product through a lance become a mist sprayed on the skin surface,absorbed through the skin microcirculation, treat various pruritus, sensitive skin, neurodermatitis, contact dermatitis, acne-prone skin

Package Included
1 x Main Machine
1 x Quadrople 3D Smart RF Handle
1 x Three polar 3D RF Handle
1 x Bipolar 3D RF with Vacuum Handle
1 x Vacuum Spray Handle
9 x Dermabrasion Tips
2 x Dermabrasion Wands
1 x Plastic Holder