-We offer 12 months warranty time for the main machine, 3 months warranty for the handle and screen.Click to view details.
Model: MS-33F2
Best 4 In 1 Unoisetion Cavitation Vacuum Slimming Ice Rf Body Face Care Machine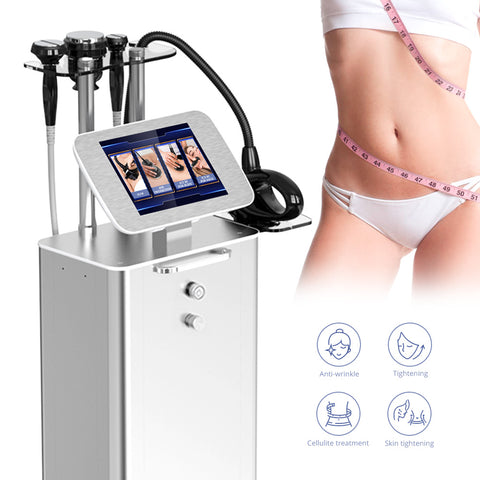 Overview
By using ultrasonic cavitation and vacuum of technologies, directly reach the deeper fat cells, bringing fat cells to a fast-active state from the ultrasonic waves and production of localized heat, so that effective blood circulation.
This increased localized blood circulation within the dermis which can tighten the sagging and loose aging skin. Your skin will have its elasticity improved aided by increased metabolic activity. Then with the aid of the vacuum, the sweat glands, and lymphatic system the excess fat and toxins are excreted out of the body. This vacuum suction and cavitation further dissolves fat cells, strengthens the integrity of cells mitochondria, enhancing blood and lymph circulation with metabolism benefits.
Advantages
a. Functional handles for body slimming
b. Save time to do body massage slimming and skin tightening treatment together
c. Personalized design, can choose the function separately or together as you prefer
d. 4 wheels better for move and treatment.
e. ice rf can help the body and face care.
Functions
1. 3D Variable Scanning RF
3D RF treatment just like enjoy spa, painess comfortable,no shocking, no pulse discharge
3D RF ulitizes scaning variable RF technology, its frequency can be changed automatically upin the temperatrue of penetration depth at some range
2. Ice RF For Body
-Eliminate excess fat, fat burning, sculpture, perfect curve
-Body lymthatic drainage and promote blood circulation
-Explode fat cell and dissolve stubborn cellulite.
-Removal excess fat of arm, thigh, waist and hip, shape the body lines, prevention of relaxation
-Improve stretch marks; strengthen the elasticity of tissue fibroblasts.
-Body Shaping: lift and tighten arms, thighs, sculpture waist and abdomen where relaxation after pregnant, cellulite improvement.
3. Ice RF For Face
-Whitening and anti-dullness
-Skin tightening and lifting,reduces thin wrinkles
-Expel the extra toxin and resolve the pigment and stain
-Restores derm tonification and elasticity
-Lymph drainage for face and reshapes the silhouette
-Improves skin texture and removal eyes' sagging
-Immediate lifting effect revitalized skin and uplifted eye-contour area
-Powerful solution against environmental stressors
4. 40K Unoisetion
Strong unoisetion sound wave explosion fat head With collective strong sound wave head, strong sound wave of 40000HZ may be emitted to human body for impacting fat cells fiercely and causing friction motion between fat cells. This may cause effective consumption of calories and moisture in fat cells and reduce the size of fat cells. What's more, sound wave vibration may cause fierce impact of fat cells to make them be exploded instantaneously, reduce the amount of fat cells and thereby achieve the effects of removing fat.
Packing List
1 x Host
1xVaccum RF Slim Handle
1xBody Ice RF Handle
1xFace Ice RF Handle
1x40K Unoisetion Handle
1 x Power Supply Cord
FAQ of 4 In 1 Cavitation Vacuum machine
What can be treated with radio frequency(RF)?
RF is a effective way to improve skin tightness and elasticity, reduce wrinkles and cellulite, boosting the overall condition on areas of the body such as the face, chin, upper arm, abdomen, thighs, bra line or buttocks.
What are the benefits of a cavitation machine?
One of the benefits about a cavitation machine is that it's versatile. It doesn't just target your stomach fat, but it can help you lose fat from any part of your body. No need to worry about any surgeries or huge costs that come along because, with a cavitation machine, you can reduce fat from your stomach, thighs, back, chest, and even the smaller areas of your body like your chin and neck.
Is ultrasound cavitation&RF painful?
Cavitation and  RF is a painless treatment. Mild redness may appear occasionally but will be highly unlikely to cause any actual pain. The heat from the hand pieces felt during the treatment is perfectly tolerable.