We offer 12 months warranty time for the main machine, 3 months warranty for the handle and screen.Click to view details.
Model:YH-5401
5 in 1 Ultrasonic Cavitation Vacuum Cellulite RF Face Skin Beauty Machine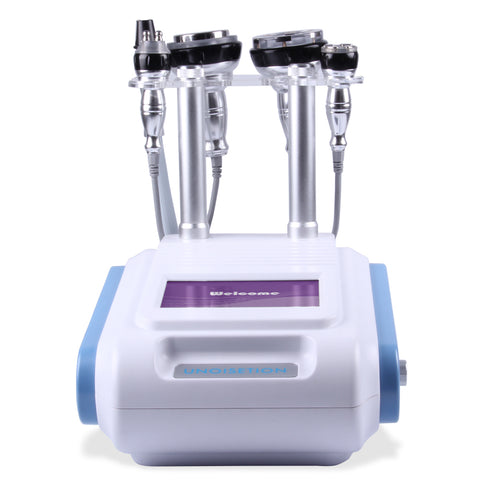 Description
Technology 1:Unoisetion Cavitation 2.0 40K
Unoisetion Cavitation 2.0 is offering a new operation which we believe can potentially replace traditional cavitation. Joint engineering customers can get results they are happy with.

Benefits can include:

A. SAFETY
Combined with new cavitation technology -- reduced cavitation induced intraear noise by 3 times. The clinical data indicated, more comfortable weight loss experience for you

B. INTELLIGENCE
Intelligence frequency adjustment technology can adjust the frequency according to the temperature of the derma during fat dissolve, people will not feel very hot during operation, it is comfortably warm

C. LONG WORKING LIFETIME OF PROBES

As we all know, hotter the cavitation head, shorter lifetime for cavitation head. Therefore, this new intelligent FM technology can prolong the working time about 10 times, and save a lot of money.

D. BETTER VISIBLE EFFECT
On the other hand, the output power will be enhanced and its effective result can be seen fast

E. DIGITIZATION CALIBRATION
unoisetion utilizes the intelligent calibration technology what means it can adjust the frequency during the whole operation and calibrate error of frequency by itself to make the output frequency keep the same frequency as before, in this way, the unoisetion cavitation will make the result of body shape more effective(3 times as long as normal cavitation) and the handles' lifetime will be 10 times more than normal cavitation
Technology 2: Bipolar 3D SMART RF with Vacuum
RF Principle
The use of bipolar SMART RF( radio frequency) with an associated vacuum device allows for precise deep dermal heating of the collagen followed by collagen remodeling. It is successfully for the operation of rhytides and skin laxity.
The heat generated by passing RF energy through the skin shrinks dermal collagen and promotes the formation of new collagen. The vacuum suction element confines the heating effect between two RF operation electrodes for greater specificity.
RF Therapy
The operation head is connected to a vacuum pump that draws the skin between two parallel sets of electrodes located in the tip. High frequency electric current (SMART RF) passes through the skin. A flat surface delivers current more efficiently, so suction induced skin deformation provides effective contact.
As such, the SMART RF operation depends somewhat on the thickness and coarseness of the skin in the target area. This mechanism induces mechanical stress on fibroblasts, leading to collagenases and possibly a more dramatic improvement of the acne scar.

Features:
Discomfort during the operation was minimal and adverse effects were limited to mild and temporary erythema.
The bipolar SMART RF with vacuum devices appears to be a safe and effective method for reducing mild to moderate facial acne scars.
The technology that vacuum folds skin makes SMART RF energy penetrate a specific folded skin, greatly improve effect and safety, even for the upper eyelid area operation.
The synergistic combination of mechanical stress and conducted SMART RF energies increase the oxygen intracellular diffusion by heating the skin result in refresh skin
Vacuum leads to SMART RF penetration to be even 5-15 mm. At the same time, Vacuum mechanical tissue manipulation nips and stretches fibrillar connective tissue, effectively breaks down subcutaneous fat as well as the extruded capillary vessel, Increase lymphatic drainage, promotes metabolism and reduces or shrinks the size of the actual fat chamber and greatly improved body contouring effect.
Techology 3:Quadruple &Bipolar 3D SMART RF with Photon
This RF face eyes' around operation to further forcing the excretion of triglycerides. And skin tightening with Quadruple or Bipolar 3D SMART RF &Photon.
High-power 3D SMART Quadruple &Bipolar RF (radio frequency) currents preferentially and intensively heat the sub-dermis (where cellulite is located), exerting a triple slimming/tightening effect on the cellulite tissues.
Specifically, these currents:
A- Immediately shorten the existing collagen fibers, thereby offering an immediate skin tightening/lifting effect.
B- Stimulate the fibroblasts to produce new collagen and elastic fibers, thereby offering a separate RF Face Skin Beauty Machine.
C-Stimulate the adipocytes to release fat into the bloodstream and physically damage a number of them (adipocytes are very "fragile" cells, in
comparison to fibroblasts or other tissue cells).
Technology 4: Sextupole 3D SMART RF with Vacuum&Photon
YH-5401 combines the mechanism of advanced 3D SMART RF energy and vacuum and Photon that work with the body's natural regeneration process to deliver safe and efficient operation for cellulite, body contouring and tightening of the skin.

Unlike any other normal RF vacuum system.  3D SMART RF technology featuring AUTOMATICALLY, INTELLIGENT, CONTROL SYSTEM that simultaneously RF energy output and Photon , with the ability to deliver safe and effective operation with SUPERIOR operation CONTROL, PRECISION TARGETING and BROADER DERMAL PENETRATION for maximum results in minimal time.


Function&Parameters&Package Including
Unoisetion Cavitation 2.0 40K Function
• Instant Inch-Loss
• Non-Invasive Fat Removal | Cellulite Reduction
• Body Sculpting | Slimming operations
MART RF (radio frequency) Function
• RF Face Skin Beauty Machine Reduce fine lines and wrinkles
• Lift, tone and brighten the face
• Tighten the skin on the underarms and legs
• Reduce cellulite
• Contour and tighten post-pregnancy tummy
• operation on face, neck, hands, knees etc
Parameters
Power supply Input:100V-240V
Power :<=190W

Unoisetion 40K cavitation Head:
Frequency:40KHz
Power:15W

Sextupolar Vacuum 3D Smart RF for body w/Photon
Freqeuncy:1MHz
Power:50W
Vacuum: <-80kPa
Pressure: >250kPa
Air flow: >10L/minute
Noise level: <70dB (30cm away)

Quadrupole 3D Smart RF w/Photon for face
Freqeuncy:1MHz
Power:30W

Bipolar SMART RF w/ vacuum for face&eyes
Freqeuncy:1MHz
Power:10W
Vacuum: <-80kPa
Pressure: >250kPa
Air flow: >10L/minute
Noise level: <70dB (30cm away)

3D Smart Bipolar RF w/Photon for eye area
Freqeuncy:1MHz
Power:10W

Package Including
1 x Host
1 x Unoisetion Cavitation 2.0 Probe
1 x Bipolar 3D SMART RF with Vacuum for Face
1 x Bipolar 3D SMART RF Probe with Photon for Eye Area
1 x Quadrupole 3D SMART RF Probe with Photon for Face
1 x Sextupole 3D SMART RF Probe with Vacuum &Photon
1 x Power Supply Cord ( Both 110v and 220v voltage (frequency: 50/60Hz) version are available. Also we stock the USA, UK, AU, EU plug to suit for the country all over the world.)

What is the SMART RF Face operation Procedure?
Cleansing the skin area with a wash suitable for the patient's skin type, to remove makeup and surface oils.
RF gel or cream is applied to the skin being operated so the RF handpiece can move over the skin easily and comfortably.
The RF handpiece glides over the area being operated in a specific motion to give a lifting firming effect.
The excess gel is removed from the skin.
The skin is gently cleansed and patted dry.
A soothing SPF moisturizer and toner appropriate for the patient's skin type is applied.

Are there Pre and Post-operation recommendations?
Before you have a SMART RF done you should avoid any type of sun exposure either by lying out in the sun, using artificial tanning with tanning beds or self-tanners, etc. This should ideally be avoided for several days before and after the SMART RF operation. After SMART RF operation, you should follow practitioner recommendations for an at-home skincare to maintain long-lasting results.



Caution

Unoisetion Cavitation 2.0 operation is not recommended for the following categories:
Pregnant or breastfeeding
Metallic implants such as pins, prostheses, and pacemakers
Intrauterine device (avoid abdomen)
Epilepsy
Cancer at any time and in any form
Blood disorders
Internal heat in the body, e.g. fever or acute inflammation
Heart disease
Kidney and liver disease
Severe high blood pressure or circulation problems
Deep vein thrombosis, varicose veins,
Hemorrhagic disease, trauma, vascular rupture
Inflammation of the veins, phlebitis
operation with anticoagulants, anti-inflammatories or antibiotics
Taking steroids for a long time
Infections
Internal bleeding (e.g. from ulcers)
Autoimmune diseases
Red, dry and itchy skin rash
Urinary incontinence
Transmissible disease
During menstruation (avoid abdomen)
Under 18

SMART RF operation is not recommended for following guys
Patients with electrical devices such as: pacemakers, heart valves are ineligible for RF. Those with metal implants or artificial metal joints inthe operation area are also ineligible. The RF energy may interfere with some of these devices and/or heat up the metal implants. There are other health conditions, pregnancy, nursing that are contraindicated. A consultation will determine whether or not RF is right for you.