-We offer 12 months warranty time for the main machine, 3 months warranty for the handle and screen.Click to view details.
Model:YH-53D2S
Unoisetion Cavitation 3D RF Wegiht Loss Cellulite Remove LED Laser 650Nm Device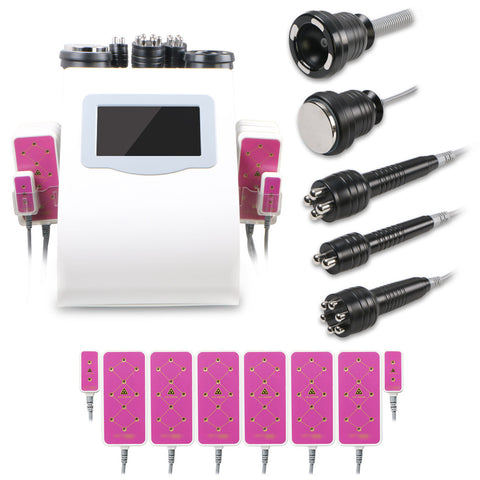 1.Overview
myChway 6 IN 1 multifunction unoisetion cavitation slimming machine with 3D RF body massager and skin tighteing,
and lipo laser diodes paddles, can be suitable for all kinds of skin to cellulite treatment, and skin tighteninng and smooth.
2.What are the benefits of 6 IN 1 multifunction unoisetion cavitation slimming machine?
Cavitation 2.0 Unoisetion, the new technology cavitation treatment allows your body to break down fat cells,
these cells are then metabolized through your body's natural removal processes.
3D RF, the energy of The 3D RF passes through the skin,
and the heat generated shrinks the dermal collagen
and promotes the formation of new collagen, thereby improving the elasticity of the skin and making it firmer.
The face can also improve acne.
5mw lipo laser, using low-level visible red laser to create a safe and painless stimulus,
this is the normal chemical way to release the energy reserves stored in fat,
it can accelerate tissue coagulation, avoid muscle relaxation after slimming, and achieve shaping effect.
3.Is the 6 in 1 multifunction slimming machine safe?
Yes, because 6 IN 1 multifunction unoisetion cavitation slimming machine is a non-surgical, non-invasive treatment,
it is safe and you will experience no downtime as a result in the whole treatment.
4.What area of my body can I use the 6 in 1 multifunction slimming machine?
All parts of the body where the local obesity is located, such as the abdomen,
thighs, buttocks, chin and arms, ultrasonic treatment should not be used for the back,
but lipo laser and RF can be used for all parts of the body, RF can also be used for facial skin,
after treatment , areas with more local fat may see better and faster results.
5.How many sessions of 6 in 1 multifunction slimming machine is needed?
It may take 5 to 10 sessions. Because each per
6.When I see the result after 6 in 1 multifunction slimming machine?
Most customers can see a clear effect after the first treatment session,
and the results will increase after each treatment session, especially after three treatment sessions.
But the results also vary from person to person,
because the treatment has different organizational structure, treatment area, age, metabolism, drugs and hormone changes.
But combined with a proper diet, adequate water intake
and increased exercise will definitely improve and help maintain your results.
After finishing all treatments, the body will continue to metabolize fat,
and most people will not produce new fat cells in later life, so the result may be permanent.
FAQ
What are the benefits of a cavitation machine?
These surgical procedures involved anesthesia, blood, needles, and bandages, etc. However, with a cavitation machine, there's no such thing that you'll ever have to worry about. These machines simply use ultrasound waves to break down the fat in your body. This also means that you won't have to worry about scarring your body when losing fat immediately.
What can be treated with radio frequency(RF)?
RF is a effective way to improve skin tightness and elasticity, reduce wrinkles and cellulite, boosting the overall condition on areas of the body such as the face, chin, upper arm, abdomen, thighs, bra line or buttocks
Is 40k cavitation effective?
Ultrasonic cavitation is meant to target small areas of fat and help contour your body. It isn't a treatment for people who are trying to lose a lot of weight. The verdict is still out on how well ultrasound cavitation works. There's promising evidence to suggest that this is an effective body contouring treatment.