Model: LT-BL002
Bio Stimulate Hair Loss Treatment Regrowth Stimulator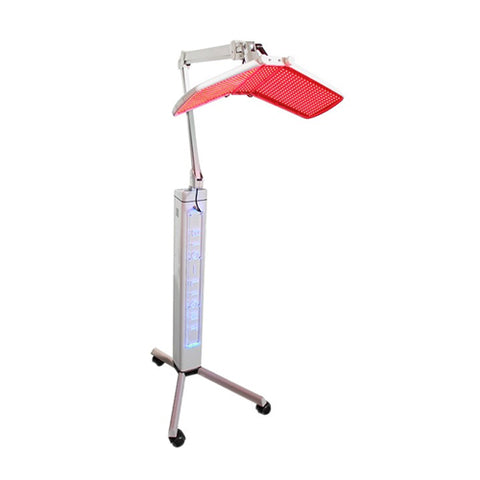 Description
PDT hair growth therapy is the interaction of light (laser), delivered through Light Emitting Diodes (LEDs), to activate cell receptors causing them to produce collagen or multiply. LEDs offer a totally natural, non-ablative method for hair care and hair growth. PDT soft laser therapy device contains 1280 individual laser modules (1280 SMD LED numbers) at a wave length of 655nm (+/- 5nm).

The PDT machine provides stimulating laser energy in what we believe is a two fold approach to energize the weakened follicle. The hypothesis behind the PDT soft laser's success combines increased vascularization and an increase in cellular metabolism. Laser energy has been demonstrated to increase the blood flow and circulation in the scalp. This increase in blood flow is crucial to promoting a healthy hair follicle. The increase in blood flow brings the important nutrients into the follicle, while taking away harmful waste products such as DHT. The increase in ATP as described in earlier paragraphs, increases cellular metabolism and cellular activity. The hair follicle now has the building blocks and energy to transform from a weakened follicle to one that is healthy and capable of producing beautiful, thick healthy hair. The enhanced environment then in turn invigorates the hair follicle which produces healthier hair, prevents further hair loss and stimulates the re-growth of hair.
Specifications
1. Self-contained, custom built, 655nm bio stimulate hair re-growth.
2. Adjustable bonnet height and angle for the most comfortable laser therapy session.
3. Convenient "hands free" operation lets you read, or just relax while doing your hair regrowth therapy session.
4. Not downtime, no damage to the skin, no incisions or masks from the treatment.
5. Easy to use, no need of the professional personnel, safe comfortable and effective.
6. Stable and continuous work, no any other special consumable materials . a wide range of application for the clinics or the beauty salons.
7. Suitable for the different types of the skin/hair.
Applications 
1.Accelerate hair growth
2. Promotes scalp heath
3. Strengthens hair elasticity
4. Increases hair density
5. Faster growing hair
6. Accelerate blood micro-circulation.
How does PDT Hair Growth work?
LEDs offer a totally natural, non-ablative method for Hair treatments. The specific wavelength of laser655nm from the LEDs interacts with cells and bacterial cultures and stimulates to produce new collagen and ATP.
Specification
Led color: Red light 655nm ± 5nm
Light Power:60mj/cm2
Time: 1~60 minutes
Area: 55cm×20cm
LED Numbers: 1280 SMD LED