Model:E-201 
IPL Hair Pigment Removal Machine freckle removal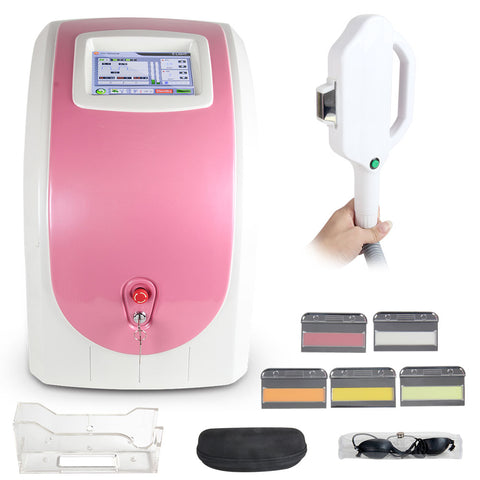 Parameter
1.Light Source: Intense Pulsed Light(IPL)
2.Pulse Duration: 3-15ms
3.Charge-discharge intervals: 1-3 seconds adjustable
4.Wavelength: 380/480/530/640~1200nm
5.Repetition Rate: 0.3Hz
6.Energy Density: 2-50J/cm2
7.Cooling system: Air and water cooling circulation+ semiconductor cooling in operation head
Normally, the different wavelength filters for a different skin condition
430 for acne operation
480 for age spots, sun spots, pigment removal
530 for freckle removal
560 for skin rejuvenation
640 for hair removal
Advantage
1. Fast connected sapphire IPL machine handpieces, each ensures 50, 000 effective shots
2. -10 to 20° C cooling system for safer IPL machine operation and comfortable feeling in IPL beauty operation
3. Resetting function is easy to calculate the cost of each IPL machine beauty operation
4. 4 independent changeable IPL machine pulses setting suitable for different skin types
5. Gorgeous 8'' TFT true color IPLmachine touch screen
6. Recommended IPL machine default parameters for 5 skin types and 3 hair colors for easing IPL operation efficiently
7. Easy IPL operation operations: Portable design, micro-computer control, easy to operate.
8. Safe IPL machine: Patented pure gold-wave filtering technology to remove harmful light, no side effects.
Package
1.Main unitx1
2.IPL handpiecex1
3.Protective glassx1
4.Filtersx5 (430nm,480nm,530nm,560nm,640nm)
5. funnelx1
6.Power Supply(We offer 100-110V(for US,Japan,Canda use),200-240V(for UK,AU,EU use).
7.Keys for powerx2