WL-NV908
4 in 1 Function Diamond Microdermabrasion Dermabrasion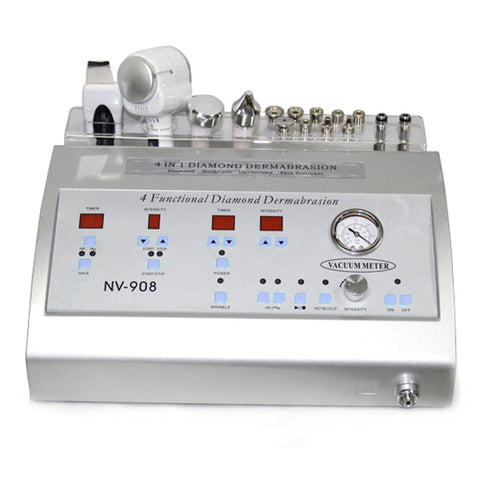 Introduction
1) Diamond Microdermabrasion
Diamond Dermabrasion provided a non-surgical skin refinish procedure, by using sterile diamond heads to abrade or rub off the top skin layer, then vacuuming out the particles along with any dirt and dead skin back up. This procedure removes skin debris, imperfections, blemishes, wrinkles and unwanted pigmentation on the skin. Moderate usage of Diamond Dermabrasion, accompany with skin products that penetrate through top skin layer that reach the dermis level, helps to replenish natural nutrients, restore cell activity, and promote skin health. The results after Micro Dermabrasion treatment is usually a healthy, glowing, beautiful skin. Diamond Microdermabrasion is generally indicated for:
- Rejuvenation of sun damaged skin - face, neck, shoulders, back, arms and legs
-Reduction of age spots.
- Minimization of blotchy skin coloring.
- Reduction of acne and superficial scars from past injury.
- Extraction of blackheads and whiteheads.
- Reduction of oily Skin.
- Improvement of overall skin health.
2) The Hot & Cold Treatment Function
The cold treatment function is specially designed for calming down the skin after peeling. The skin is sensitive after peeling treatment, so the cold treatment procures is necessary. The hot treatment function is designed for opening pores before cleaning the skin and accelerating the absorption of nutrition.
3) Ultrasonic Function
Ultrasonic utilizes sonic vibrations; it works one million times per second. The ultrasonic wave could stimulate skin tissue and improve permeability of the membrane to promoted collagen tissue, reduced wrinkle and invisible appeared fine line, also lift the skin result for younger and healthy look. Ultrasonic generate frictional heat which accelerate blood circulation, muscle relaxation, and decompose the cellulite to bread down exceed fat. Ultrasound with 2 probes provided non-surgical lifting. This machine utilizes sonic vibrations to reduce lines, leaving the skin firm and smooth.
The scrubber is the latest treatment which removes dead skin cells, smooth wrinkles, treats pimples and clears the complexion.
Treatment:
Adiposity,
Generaladiposity,
Cellulite,
Musclecontractures,
Corporal,
Stretch marksandscars,
Facial,
Flaccidity,
BodyContouring,
Fluidretention/tiredlegs /drain
The reason why we choose diamond micro dermabrasion.
With so many skin care options to choose from, taking care of your skin can get downright confusing. A popular and proven procedure known as diamond microdermabrasion is quickly becoming the skin care procedure of choice for many. It's both effective on conditions ranging from anti-aging to acne scarring and is a relatively mild procedure.
As far as exfoliation methods go, microdermabrasion is among the best you can find. By removing dead skin cells quickly, you'll revive a dull-looking complexion and also help prevent other types of skin issues such as clogged pores. Once free of old, dull skin, your complexion will return to a clear and glowing one as new skin develops and shines through.
Microdermabrasion can be a fast remedy for many kinds of skin conditions. Whether you're concerned about fine lines and wrinkles or have more youthful skin problems such as acne, this is a treatment that can help. In the case of acne, this can be an especially effective treatment because it pulls off all the dead skin cells that can clog pores and cause acne to get worse. Treating acne with microdermabrasion can keep your skin looking good when used regularly.
Micro dermabrasion performed with diamonds should not be confused with crystal microdermabrasion. While crystals are often less expensive and offered in more places, there are some potential side effects you should be aware of. Because the process involves sloughing the skin with crystals, dust particles are released as a result. If this dust gets into your mouth, eyes or nose, you could experience negative side effects.
You can get beneficial results from crystal microdermabrasion – this is true. However, avoiding areas around the mouth and eyes is a must with this kind of treatment. This is unfortunate because these are areas that usually need treatment first and are the reasons many people look to such a treatment in the first place.
Treating delicate areas like those around the eyes and mouth are one of the major advantages of treatments using diamonds instead of crystals. None of the harmful dust particles are created during the diamond microdermabrasion process. Accordingly, the areas needing anti aging treatments the most can receive it.
SPECIFICATIONS
Voltage 220V- 240V/ 50Hz;
100V- 120V/ 60Hz
Power 110W
Package include:
    Diamond Dermabrasion device 1
    PVC vacuum hose 6*4 X 1
    Stainless steel wands 2
    Diamond tips 8
    Cotton filter 1 package
    Ultrasonic units 2 (flat & tipped )
    Ultrasonic holder 1
    Skin scrubber 1
    Cold & hot hammer 1
    Connector, tube rings & fuses