Model:HR-EX808
IPL Hair Removal Pigment Vasculare Removal Beauty Salon Machine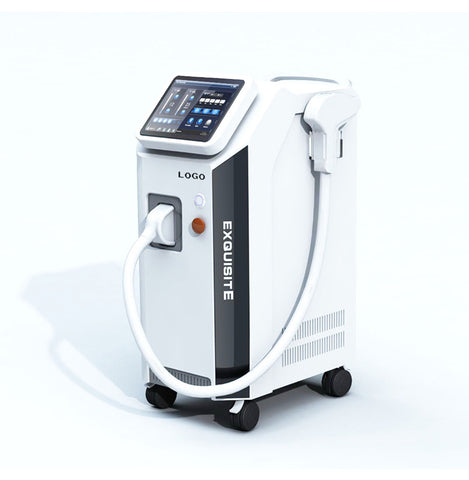 Mechanism of action
IPL can cause localized damage by selectively heating dark target matter, melanin, in the area that causes hair growth, the follicle, while not heating the rest of the skin. Light is absorbed by dark objects, so IPL energy can be absorbed by dark material in the skin, but with much more speed and intensity. This dark target matter, or chromophore, can be naturally-occurring or artificially introduced.
Melanin is considered the primary chromophore for all hair removal IPL currently on the market. Melanin occurs naturally in the skin, and gives skin and hair their color. There are two types of melanin in hair. Eumelanin gives hair brown or black color, while pheomelanin gives hair blonde or red color. Because of the selective absorption of photons of IPL light, only black or brown hair can be removed. IPL works best with dark coarse hair. Light skin and dark hair are an ideal combination, being most effective and producing the best results, but new IPL are now able to target dark black hair with some success in patients with dark skin.
IPL hair removal has become popular because of its speed and efficacy, although some of the efficacy is dependent upon the skill and experience of the IPL operator,[citation needed] and the choice and availability of different IPL technologies used for the procedure. Some will need touch-up treatments, especially on large areas, after the initial set of 3-8 treatments. It has also been noted that some people are "non-responders" – this occurs when the incorrect device is being used, the device parameters are too low or the patient is simply not a good candidate for treatment
Technical Parameters
1.Wavelength:808nm+/-10nm(940nm optional)
2.Pulse Width:25ms~950ms
3.Repetition Rate:1Hz~20Hz
4.Energy Fluence:0~120J/cm2(Up to 150J/cm2 optional)
5.IPL Window:10x16mm
6.Water Tank Volume:~3L
7.Handle Piece Flow Rate:3.5~4.5L/min
8.LCD Screen :8' Touch LCD
9.Input VAC:110VAC,220VAC / 50-60Hz
Adapting Range
Pigment:Freckle, Chloasma, age pigment, sunburn, chorioplaque, all kinds of pigmentations.
Vascular lesions, red face, and red capillary.
Acnes:allergic acne, acne , blackhead, bottle nose.
Skin Rejuvenation:Face lifting up, smoothing wrinkles and pouches, whole body lightening and tightening.
Hair Removal:armpit hair, hairline, beard, whiskers, lip hair, body hair, bikini hair or any other unwanted hair.
Packing List
Main frame x 1
Handpiece x 1
Power Cord x 1
Water Plugs x 2
Key Switch x 2