Model:SRSK-0536
Hot Stone Massage 16pc Set MassageStones Prof Travel Set Or For Personal Use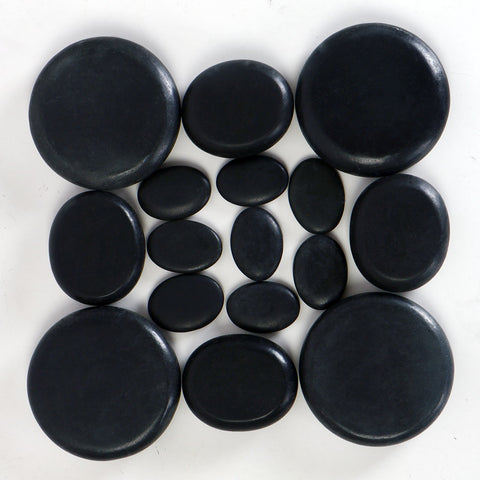 INTRODUCTION
Stone Therapy is the application of stones in a thermo-therapeutic massage. This is an age old therapy dating back 5000 years.
When heated, the rocks penetrate the muscles and ease tension. The cool stones soothe inflammation.
When hot and cold are alternated, the circulation is stimulated, thereby assisting the body in self-healing. The weight of the rocks being accepted by the skin and the muscles has an effect completely unlike a 'normal' hot / cold treatment.
Those experiencing a hot stone massage can notice a healing improvement in the following symptoms:
FUNCTIONS
.Muscular aches, pains and sprains
.Circulation improvement
.Rheumatic and arthritic relief
.Back pain
.Stress, anxiety and tension
.Insomnia
.Depression
FEATURES
The stones can be placed down your spine, along your arm or leg and even in between your toes-anywhere you feel the need!
Create a relaxing experience by lighting the scented candle and incense.
Why not give this gift to your partner and treat each other to a romantic sensual night of therapy!!!
Note :It will take a few more time (estimated 50 mins ) to be more warmer for 100v-120v unit
Package Including
16pcs hot stone
1 pc package box
Parameters
Power:60W
Voltage:220-240V 50Hz /100-120V 60Hz
Temperature:60 degree+_10degree