-We offer 12 months warranty time for the main machine, 3 months warranty for the handle and screen.Click to view details.
Model:WL-F8101
2020 New Infrared IR Far Portable Indoor Personal Spa Sauna With Heating Foot Pad And Chair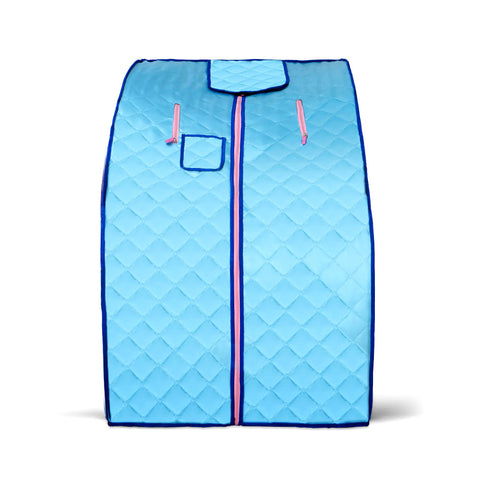 Description
The infrared rays to give benefit for human body is known as wevelenth area Far-infrared rays.
Far-infrared rays is part of the sunlight spectrum which is invisible to the naked eye. It also known as Biogenetic rays. Biogenetics rays has been proven by scientific man to improve the growth and health of living cells especially in plants, human beings and animals.

Effect of Far-Infrared rays.

The human body contains about 65~70% water of own weight.
Far-infrared rays cause resonance with water molecules and other matter resonance to can cause resonance. It ionize and activates water molecules in our cells and blood thus improving our blood circulation and metabolism and health condition.
Features
Foldable, easy to carry
Walls panel: mica heating plate
Built-in auto shut-off safety feature
Durable moisture resistant satin polyester material
Double side zipper for walk in & out
Zipper for neck and both arms: for reading, watching TV
Zipper for remote control: humanization design
Light weight and folding chair: easy to carry anywhere
5 minutes reach 55℃ high temperature and speed-up sweating effect
Foot pad: conductive FIR carbon fiber heating element
FIR sauna heat therapy allows increase blood circulation to carry great amounts of nutrients to the skin, thus promoting healthy tone, texture and mild cleansing of the skin
Health Benefits
Treat muscular aches and & sprains
Improve circulation
Promote weight loss
Have healthy looking radiant skin
Relax mind and body
Enhance detoxification processes
Boost metabolism and cellular energy
Enjoy a feeling of wellbeing
Improve cardiovascular conditioning and fitness levels
Package Included:
1x Large Size Portable Sauna
1x Foldable Chair
1x Foot Heating pad
1x Remote Temperature and timer Controller
1x Manual (Please read manual before use)
1xHeating plate
1xSupport plate
Note:
Legal Disclaimer : Please note that this product is not a medical device. If a condition persists, contact a doctor. We recommend that you do not rely solely on the information presented and that you always read labels, warnings, and directions before using or consuming a product.

What should you wear when using an Infrared Sauna?
Bathing clothes are recommended for use in the Sauna but you can wear shorts and a Tee shirt if you want. Make sure that you always take a towel into the Sauna with you, this will assist in keeping you comfortable and at the same time will ensure that the Sauna inside is kept clean.

Can anyone use it ?
Infrared heat is natural and suitable for all the family. A healthcare professional should be consulted if you have specific health conditions, including pregnancy.

If you are pregnant, you should not use the sauna belt. Always consult a doctor prior to using exercise equipment.

If you have open wounds, you should consult your doctor before use.