Model:HR-B208
Home Use Portable Laser Hair Removal Skin Rejuvenation Machine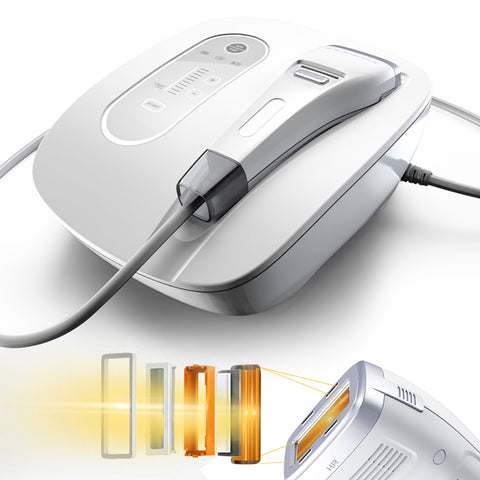 Working Mechanism
The skin absorbs light energy selectively; IPL works on skin and results in light-biology action which changes the inner construction of fiber and collagen to stimulate collagen growth and recover its elasticity.
Treatment items
a) Hair removal:Hair of arms and legs, hairline, lip hair, armpit hair;
b) Skin rejuvenation:Whole body, improve coarse pores and bad skin conditions
SPECIFICATIONS
IPL home use hair removal device.
Working Method: ①HR(hair removal) ②SR(Skin Rejuvenation).
Light source type: wide spectrum.
Wavelength: 530nm~1100nm (SR); 650nm~1100nm (HR).
Energy Level: 1-10
Energy density: 0 - 7J/cm2
Treatment Area: 44*16mm.
Applicator Life: HR Tip-20,000 shots , SR Tip-30,000 shots
Power Supply: 100~240V AC, 50hz/60hz.
Input power: 150W.