SR-SOURCE-US
New Pro 99% Pure Oxygen Jet Facial Skin Rejuvenation Beauty Equipment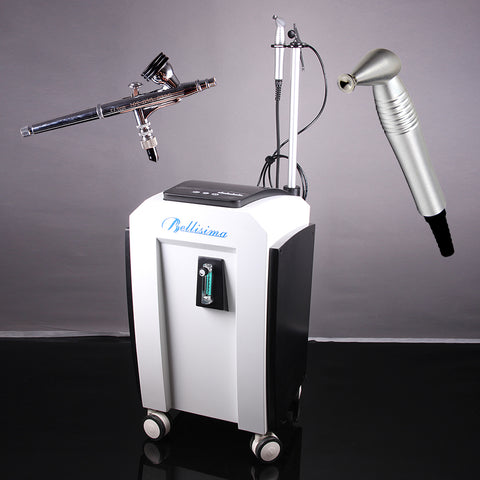 99% Pure Oxygen Jet,Skin RejuvenationWrinkle Remover,Anti-aging
Principle

Using the high pressure physical separation method to extract oxygen from the air, making 99% of pure oxygen, is a highly efficient, environmental protection equipment.Cooperate with specially designed nozzle, spray gun to the skin in oxygen, oxygen injection and smelling oxygen injection triple way directly into the skin wrinkles and dry place, make the skin rapid absorption of oxygen, increase the activity of human cells, accelerate metabolism, achieve various disagree with unexpected therapeutic effect.

What is the role of oxygen?

-----oxygen is the key to human life energy material.
-----oxygen can promote the regeneration of the epithelium of collagen fiber and capillary, conducive to the recovery of the organization.
-----overcome the hair follicle and surrounding tissue hypoxia state, improve aerobic metabolism.Promote the circulation of intradermal ischemia hypoxia group to blood and oxygen, accelerate the hair regeneration.Promote the atrophy of hair follicle returned to normal.Effectively restrain the growth of the acne propionic acid bacillus (anaerobic bacteria), improve the inflammation of the skin.
-----care at the same time, the inhalation of high concentration of oxygen, but also to the health of the body.
-----high purity, high active, natural and safe.

Function:

1, replenish oxygen to skin quickly, back to life;
2, activate cells, restore elasticity;
3, remove wrinkles, anti-aging;
4, hydrating whiten and smooth the skin;
5, to remove facial defects, dodge various spots;
6, collaterals, and promote circulation, strengthen metabolism;
7, relaxing, reduced pressure regulation, adjusting endocrine, the symptom such as insomnia, upset, headaches, irritability, fatigue;

The source of vitality of the eight functions

1. Get rid of wrinkles, smooth the skin
2. reduce freckle, age spots and other facial spots
3. to provide sufficient oxygen to the skin, increase cell activity, improve dark skin, make skin ruddy, appear
4. Balance dry, oily skin: long-term keep water embellish skin, regulate sebaceous glands secretion, relieve facial acne
5. Increase the activity of the skin collagen cells, smoothen fine lines, shrink pores, make skin meticulous tight
6. Remove facial defects, fade uneven tone, make skin become white and
7. Repair damaged skin, reduce excessive after exfoliating
8. Healthy cells function of the skin to absorb nutrients.