-We offer 12 months warranty time for the main machine, 3 months warranty for the handle and screen.Click to view details.
Model:Panda-cav
New Ultrasonic Liposuction Cavitation Slimming Machine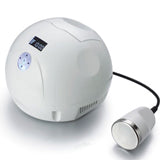 APPLICATION
*Intensive physical lipolysis to remove surplus fat
*Burn surplus fat, Lymphatic Treatment
*skin tightening, improve skin elasticity
*Improve orange peel organization, body shaping

FEATURE
You can adopt the top ultrasonic liposuction technique in the world!

Suitable for all kinds of skin. (And even can give better skin retraction!)

Comfortable, painless, and woundless during the treatment.


Easy operation, easy study.

non-anesthetic.

No ruggedness.

No bleeding and bruising.


No side effects, good effects on skin, no rebounding phenomenon.

Woundless, will not influence the normal working and living.

PARAMETER
WorkingFrequency:40K Hz

Energy:1-3W/cm2

Active Surace:12cm2

Pulse Type:Continuous

Both 110v and 220v voltage (frequency: 50/60Hz) versions are available.