Model:DTNV-707
Ozone Vaporizer Facial Steamer Beauty Machine Professional Skin Rejuvenation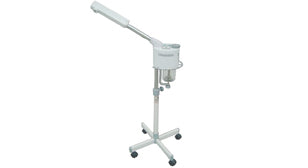 FUNCTIONS:
- Open up the skin pore,soften the grease,black head,make-up remnants and dirt for deep cleaning inside
- Activate the blood circulation, improve metabolism, moisten and renew the skin
- Ozone will effectively kill the skin bacteria, keep the skin health
Features
1. Thermal protector circuit shuts off steamer automatically if water level gets too low.
2. Thermostat system shuts off steamer when temperature reaches too high, and allowing the steamer to cool down for 5-7 minutes, and then resume operating automatically
Sepcifications
Packing Size L97.5* W40.5* H29 cm
Voltage 220V- 240V/ 50Hz;
100V- 120V/ 60Hz
Power 750W
Operating Instruction
1. Turn power switch on: adjust the POWER/TIMER knob and set desired treatment time.
2. Allow 5 to 7 minutes for water to boil and steam comes out.
3. Activate the O3 by pressing the O-Lamp power button ON/OFF.
4. Adjust the L-R Turning adjuster to desired position.
5. Based on customer's skin types, the following treatment times are recommended:
Normal Skin - 8 to 10 minutes
Oily Skin with poor circulation -12 to 15 minutes
Sensitive or dry skin - 3 to 5 minutes
Skin with inflammations or skin - 3 to 5 minutes with broken capillaries
6. As the water is depleted, refill as need to the water filler.
The maximum capacity is at the red line on the glass container.
Caution
1. Fill in distilled water only.
2. Plug off when not in use.
3. Clean the Glass Jar minimum of 3 times a week.
4. Keep distance from children.
5. Do not let the thermostat shuts off and on many times without water,
It will cause damage to the machine.