Model:LT-110J
3 Colors LED Photon Face Mask Massager For Skin Care Facial Tightening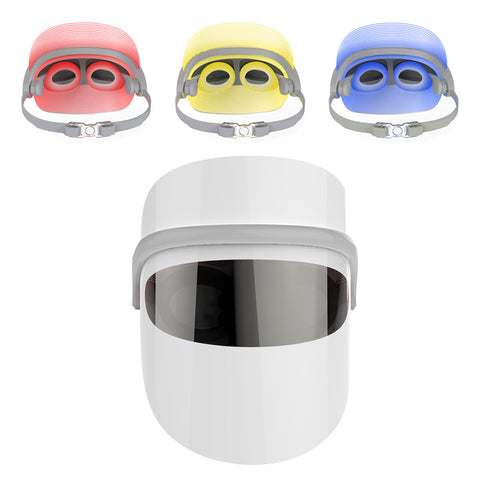 Introduction of different light:
1. Red Weavelength: 670nm-690nm
Effect: The most penetrating power, skin cell regeneration, increasing the oxygen content in the blood to stimulate the circulation of blood, improve ance wound, treating allergic dermatitis or ringworm to ease the pain and promote the active of the ample active ingredients activating cells, enhancing energy efficiency, promoting collagen proliferation, improving wrinkles, effective treatment of aging, skin relaxation and products deep absorption.
2. Blue Weavelength: 445nm-465nm
Effect: Bacteria killing, skin cleaning,cell activation,injury recovery, promoting protein-ossein composition, acne skin sterilization, inhibition of sebaceous gland, prevention of wound infection.
3. Yellow Weavelength: 445nm-465nm
Effect: Anti-wrinkle regeneration, activates skin, smoothes and removes wrinkles. It can penetrate the surface of the skin under 0 damage, activate the regeneration of collagen activity, restore the basal cells to tighten and resilience, anti-wrinkle and crepe; remove melanin, whitening and brightening skin.
How to use:
1. After cleansing, on the face evenly coated skin care products, basic care
2. Wear it on face 15 minutes facial spa,Select vibration massage mode
Specification:
Material: Safe and effective ABS、PVCFPCPET
Powered By: USB Cable
LED Light: Red, Blue,yellow 3 color
Color: silver white
Measurement Details in the attached picture.
product Size: approx.19.4*14.1*16.9cm(1cm=10mm=0.39inch)
product Weight: 69.5g
Function: Lighten Pigmentation, Fade Spot, Wrinkle Removal, Skin Whitening
Package Include:
1X Mask
1X USB Cable
1X Battery function handle
1X Chinese-English Instruction