Model:AS163
Water Hydro Dermabrasion Deep Cleansing Dermabrasion Facial Machine Hydra 6in1  Facial Water Peeling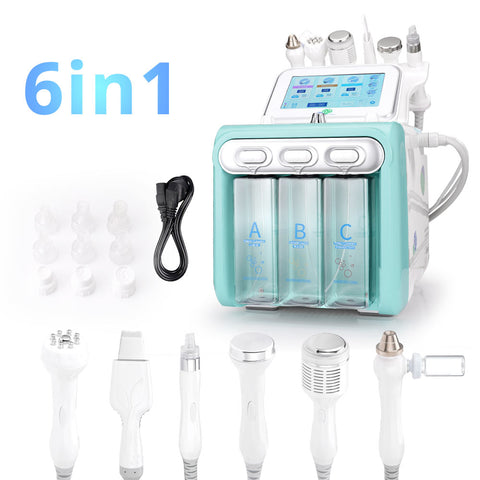 Features of 6 IN 1 Hydra Facial Machine
- Multifunction Skin Rejuvenation System
One machine can finish the skin care treatment easily

- Safe and painless
A small bubble skin management instrument uses vacuum negative pressure technology combined with specific solutions, low stimulation and skin grinding.

- Rotary cleansing suction head
Innovatively added, to get better skin cleaning effect than traditional small bubble beauty machine, 3 different handles for solving a variety of skin problems, make your skin tender and beautiful

- Scope of Use
Whitening, deep cleansing of the skin, firm skin, shrink pores, improve a double chin.

6 in 1 Hydra Facial Oxygen Dermabrasion Can Do?
- Remove Cuticle of Epidermis, Refreshing Skin
- Improve Cell Organization and Eliminate Defects
- Promote Regeneration of Collagen and Elasticity
- Improve the Mechanism, Enhance Elasticity
- Reshape & Restore Healthy Skin
How to Use This  6 In 1 Hydra Facial Machine?
The main hydro dermabrasion facial treatment procedure:
Step 1. Remove makeup, 5 mins.
Step 2. Apply toner, 1min.
Step 3. Apply blackhead export liquid in the bottle A, then use the hot steam on T-zone (nose, forehead, chin) or clogged area, 5-8 min.
Step 4. Hydra dermabrasion operation
Step 5. Wash face clean, 2 min.
Step 6. Apply hydrating mask+hot steam, 10 min.
Step 7. Wash face clean, 2 min.
Step 8. Pour (whitening/hydrating/soothing/anti-aging)essence into the hydro bottle B 2 min.
Step 9. Hydro spray jet operation
Step 10. Move vertically towards hairline on forehead, meanwhile, brace the skin with the free hand to keep
the treatment surface tight, 2 times.
Step 11. Apply(whitening/hydrating/soothing/anti-aging)essence on face, 1 min.
Step 12. Lead in nutrition with the backside of the scrubber.
Step 13. Do the same on the other side.
Step 14. Move up and lift towards the hairline on forehead, 3-5 times.
Step 15. Apply a hydrating facial mask, 15 min.
Step 16. Remove the mask and wash it clean, 2 min.
Step 17. Apply toner, essence, cream, and sunscreen.

For more information, please check the user manual or video tutorial