SR-VX8
Skin Lifting Wrinkle Remove Treatment Machine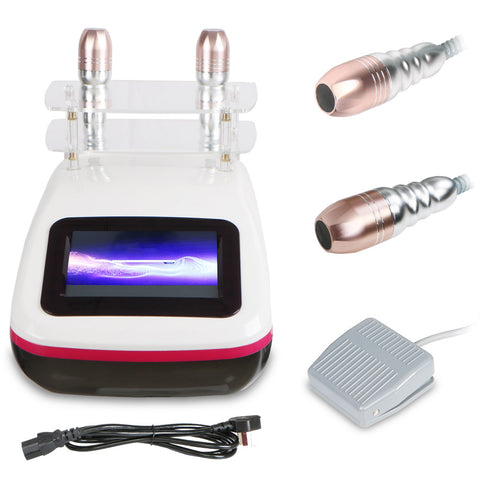 What is Radar Line Carving 
It helps to Remove wrinkle and improve skin elasticity and to form collagen. It makes the  energy at 65℃ to deliver to SMAS layer (about 3.0mm~4.5mm) in the face skin and it contracts skin muscle layer.
Features
* As it is equipped with the Probe (3.0mm/4.5mm) which is the most widely used in Radar Line Carving equipment, it can be used for the full facial treatment.

* By adopting a self-cooling method, not a cartridge-changing way which is widely known in the market in normal Skin Lifting devices ,it can be used for a long time without replacing a consumable cartridge. (Durable handles)

* Probe-rubbing methods enable easy and particular region operation.

* Easy control though user friendly interface on 7 inch touch LCD
Aavantage:
* Because Radar Line Carving focuses energy shortly and intensively on the target area while rubbing probe, it makes less pain than other skin lifting brands`.

* Various shot intensity, shot time and shot interval can be adjusted by user`s purpose. As applying rubbing operation, reducing shot and interval time, operation time can be shorter than normal Skin Lifting operation. These shorter operation time enables to do more operations and it helps to get good results rapidly.

* it doesn`t need maintenance cost which mostly made by cartridge changing. It reduces medical expense and increases competitiveness. And it helps to do additional treatment without big burden.

* By adopting a probe-rubbing method which is not widely used in High Intensity equipment, it is possible to perform detailed operation. Ex) near cheek-bone
* Water cooling system enables to give stable operation, though a long time working.
Functions of Radar line engraving
1,Face lifting,reshaping contours
The entire face is fully tightened up, including the eyes,cheeks,forehead and neck, all of which improve the facial contour;
2,Firming skin,improving relaxation
Because of aging, fracture and loose collagen fibers, collagen regeneration is stimulated in vivo.Increase the content of collagen in the skin, so that the skin to restore the compact and plump young state;
3,Shrink pores,delicate and touching
Control the facial oil secretion,perfect shrink facial pores, let you show zero pores delicate skin;
4,Remove wrinkles and smooth skin
Powerful in removing wrinkles, forehead wrinkles, wrinkles between the eyebrows, lower eyelid wrinkles, preauricular wrinkles, lip wrinkles,nasolabial fold wrinkles and neck wrinkles, make the skin restore smooth;
5,Promote metabolism, reverse aging
Promote the decomposition of subcutaneous fat and the metabolism of collagen cells, stimulate the spontaneous hyperplasia and reorganizetion of elastic fibers, and reverse the aging process due to the loss of collagen cells, so that you embrace the young state