-We offer 12 months warranty time for the main machine, 3 months warranty for the handle and screen.Click to view details.
Model:WL-JKL808C
Bipolar RF Ultrasonic Cavitation Vacuum Body Shaping Beauty Machine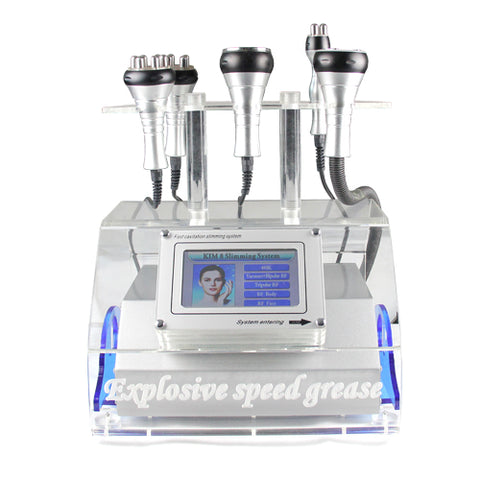 Features
1. The entire process is completed without the need of surgery and anesthesia.
2. Does not cause the phenomenon of uneven skin.
3. Does not cause the phenomenon of bleeding, swelling and blood stasis.
4. Without side effects and the risk of gaining the weight back, the results are rather obvious.
5. Non-invasive operation does not affect the normal work and life.
Functions
Firm the arms, legs, thighs, buttocks, waist, back, abdominal muscles and reshape the body figure
Improve and treat the orange peel like fatty tissues of different serious levels
With the effects of soothing, decompression and pain relief (such as joint pain, sciatica),promote the regular mechanical aerobic exercise of skin tissue, rapidly relieve stress and remove fatigue.
Firm, lift and compact the skin and mould the face shape
Circulate and activate cells, promote metabolism and so that 100% more collagen and elastic fibers may be gained for improving the facial and body skin
Package Including
Multipolar RF head(Three Pole RF) X 1
40KHz Cavitation Head X 1
Vacuum Biploar Head x 1
Bipolar RF Head for face X 2
Power cord x 1
Technical Parameters
Power suppy Input:110V/220V 60HZ/50HZ
Power :130W
40K cavitation head:
Power supply output:150V
Frequency:40KHz
Power:25W
Vacuum+Bipolar RF head:
Power supply output:66V
Freqeuncy:3M
Power:95W
Three Pole RF head:
Power supply output:66V
Freqeuncy:3M
Power:35W
Face RF head:
Power supply output:66V
Freqeuncy:1M
Power:35W