Model:SR-098W
White Color USB Rechargeable Electric Sonic Skin Scrubber Handheld Device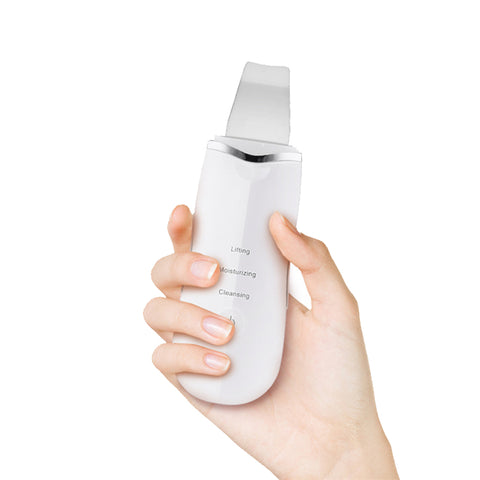 principle
The beauty shovel machine shatters and discharges the impurities in the pores by high-frequency vibration + ultrasonic vibration. It can also be absorbed in conjunction with skin care products. It has obvious effect on dead skin blackheads.
Parts
1. Through ultrasonic high frequency vibration, it can promote cells metabolism, soften cutin, make the pidermal cells rearranged, and can also restore the skin elasticity, making skin be smooth.
2. Positive ion leading out, adopting the 45-degree operation, it can promote cells metabolism, aging, and irregular variation cells shedding to rearrange the cells.
3. Negative ion leading in, the use of ultrasonic vibration principle and warm effect, it can promote blood circulation, accelerate lymphatic reflux for a deep accumulation of toxins in the skin, remove the aging cells to avoid excessive accumulation of keratinocytes, making water nutrients convey more quickly, improve cells permeability, enhance the absorption of products, improve skin moisture, can completely improve the skin color, whitening skin.
4.The ion function can work simultaneously only when you hold the metal conductive stripes on both sides, please use it together with the skin care product.
Advantage
-Rechargeable design makes this machine be more easy and convenient to operate.
-Lightweight and compact, easy to carry and convenient to use.
-With the pat function, it can tighten and lift face, restore elasticity and remove wrinkles.
-Clean up the dirt and ageing horny in the deep skin and gradually lighten the dark spots on your skin.
- Made of high grade material, which is more durable and eco-friendly.