Why we need to loss weight?
People like to have slim build and only few want their body to be overweight or want themself to look like a fat guy except you are a a sumo wrestler. Indeed, both man and women around the world are pursuing their ideal fingers. Muscular or at least lean build is what most men want to have and women take slender curvy body as their ultimate goal.
They launch attacks on their pesky unwanted fat and over and over again fail to win the battle against it. Excuses for that can be varying. Being too busy to have exercise. Can't resist the temptation of delicious yet high-carbohydrate foods. Or just can't be bothered to do something but still expect a dream-come-true moment. You can't succeed in getting your fat reduced without sticking to what has been proved to be helpful, which really make senses because you do know exercise and dieting work. But how to stick to them is the core problem.
If you say you are sticking to something, such thing is to some extent against human nature. But as modern technologies make huge strides, a broad range of beauty machines or procedures have been created to meet people's needs. Those who want to reduce fat can see solid results by using those machines instead of taking tiring exercise or go on a diet that is hard to follow.
What weight loss equipment works? 
You can find kaleidoscopic types of fat reduction machines or procedures on the market like laser treatment, liposuction, fat freezing(or cryolipolysis), cavitation machines. Taking cavitation or lipo cavitation machines for instance, they use strong acoustic waves to create cavitation effect where thousands of cavities(also called vacuums)will come into existence, the collapse of which can bring severe damages to fat cells as a result of pressure changes inside. Those machines have received a great number of positive customer reviews. And here are some premium picks given to you if you want to try them.
Lipo Cavitation Machines now on the market can be the options for professional beauty salons or used at home for those who are willing to develop their DIY ability.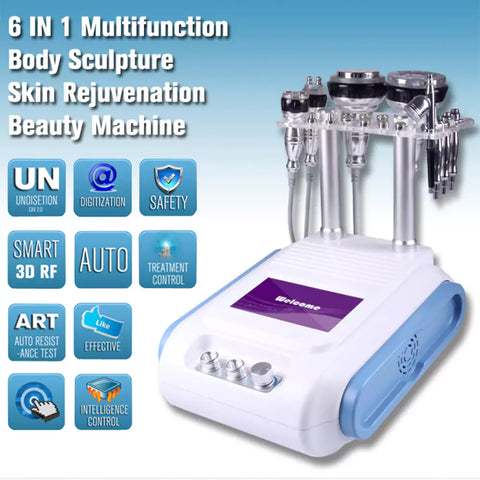 As you can see, this is a relatively small-sized machine. And several handpiece are provided. Apart from the cavitation handpiece, RF handpiece and dermabrasion handpiece are also available. Those handpieces can be orderly placed on the holder fixed on the vertically standing support. On the one hand, cavitation treatment offers fat reduction results and on the other hand, the RF energy can help tighten skin by stimulating collagen regrowth, which is very necessary because skin will look saggy after fat gets removed. The dermabrasion handpiece is another boon. It works to efficiently slough off skin dead cell layer so that skin can get smoother.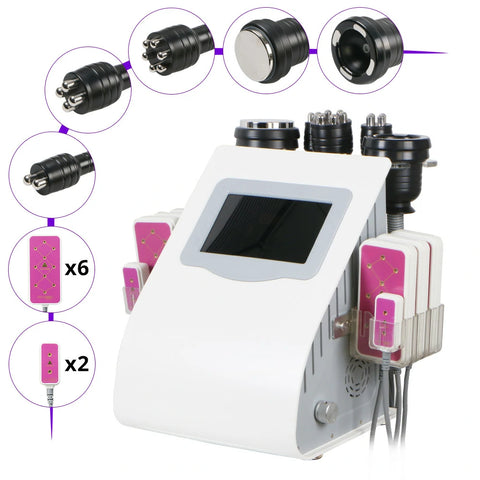 This machine is also suitable for those who want to use it at home for its small size. From the given product image, we can see there are several highlights worth mentioning. The first is the eye-catching red pairs of blocks. They actually are the laser applicators. If seeing them close to, you can find several light beads sitting on it and forming a special pattern. They are suitably put at the two sides of the machine. The cavitation handpiece has adopted the more advanced cavitation 2.0 technology, making it possible to deliver more satisfactory results.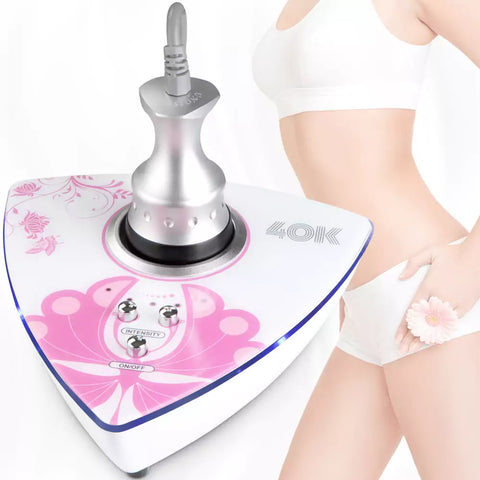 This machine is single-functional with one big ultrasound cavitation handpiece when you have first glance at it. As the specially designed word "40K"on the machine implies, this machine adopts up to 40,000hz acoustic waves to help the treatment receiver get rid of fat. Compared to 30K machines, 40K machines uses higher-frequency sound energy. Thus, the energy only target shallower layer of fat tissue. So, it is very useful to relieve stubborn fat removal problems such as cellulite. There are only three knobs at the front side, which are super easy to use. And the much expanded working surface of the handpiece can guarantee energy will be released on bigger-sized target area in each swipe.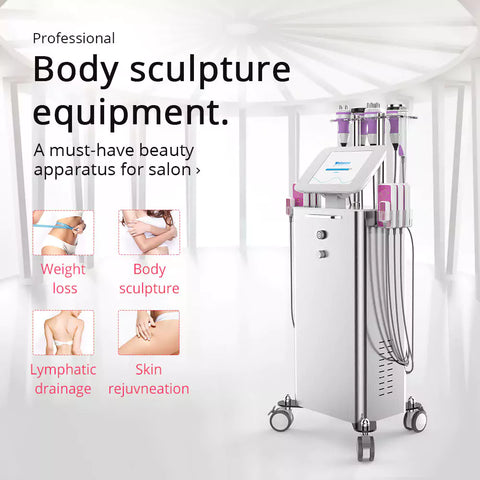 This machine has a bigger build so relatively speaking, it is the option for beauty salons. Thanks to the four castors at the bottom, it is conveniently movable. Simple-to-use touch screen is quite user-friendly. Plus less than one thousand USD price tag is also budget-friendly. Silver-like machine cover material has highlighted its premium quality and at the same time ensured is hard enough to protect it against most physical damages.
FAQs
Why lipo cavitation machines have more advantages than liposuction in terms of fat removal?
A: As an invasive procedure, liposuction involves the making of incisions and the use of anaesthetic. So it requires downtime after treatment and unavoidably inconvenience people's life. The worse case is the potential risk of infection. Its only saving grace is its immediate remarkable results. But lipo cavitation machine can also give solid performance. It has much low risk than liposuction. No downtime and few side effects. Besides, a home-use cavitation machine can give you as many treatment sessions as you want at a relatively low cost while one liposuction procedure alone would charge you a fortune.
Is there any chance that I will surprisingly find fat accumulation again somewhere on my body?
A: There is only a slim chance of that if you have healthy lifestyle and some exercise after treatment. As fat accumulation is a gradual process, a swift fat regaining is impossible unless one overeats and lacks exercise during a period of time.
Can it be used on every part of body? And what about its side effects if there is any?
A: It can not be used on every part of body definitely. For example, heart and eye area. Extra attention is needed to follow the user manual and use he machine. For the second question, being an non-invasive treatment, it still has some side effects, though. But they are usually some mild skin reactions like redness or swelling, which a handful of people would experience. And they can disappear every soon.