-We offer 12 months warranty time for the main machine, 3 months warranty for the handle and screen.Click to view details.
Model: YH-5302S
6 in 1 Ultrasonic Cavitation 2.0 RF Vacuum Body Shaping Machine Professional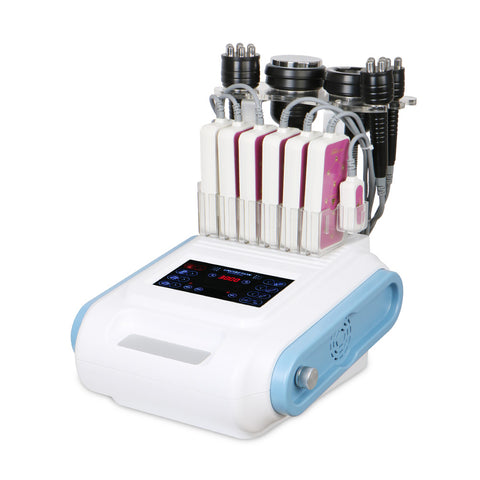 Overview
myChway 6 in 1 unoisetion ultrasonic cavitation 2.0 3D RF vacuum treatment help excess fat deposits which can be treat most part of the body, and the fat cells are not destroyed as a result of treatment. Best choice for body contouring and skin care.
What is the 6 in 1 ultrasonic cavitation 2.0 machine?
The 6 in 1 ultrasonic cavitation 2.0 RF Vacuum Fat Reduce machine of beauty slimming technology non-bleed, non-surgery, and that don't make your body was be damage.
The 40k cavitation technology reduces body fat by targeting the destruction of subcutaneous fat cells in the fat cell membrane to achieve the goal of weight loss.

RF Vacuum Fat Reduce radio frequency combines advanced 3D RF energy and the principles of vacuum therapy to reduce cellulite, reshape the body contour and tighten the skin. The heat generated by 3D RF energy can shrink the collagen of the dermis and promote the formation of new collagen, and may make acne scars more significantly improved
Lipo laser can shrink fat cells to achieve body shaping effect.
Advantage of 6 in 1 ultrasonic cavitation 2.0 machine
Safety, new unoisetion technology-reduce 3 times noise in ear than before, more comfortable experience when weight loss
Effective, The 3D RF energy output reaches the real results for body slimming, the different sizes design for face and body treatments
Comfortable, RF energy rate is adjustable, and increase the treatment comfort.
Economical, the handles can be used limitless within its lifespan, there is few consumables in the machine.
Touch screen, easily to operate.
How often can you do 6 in 1 ultrasonic cavitation 2.0 machine?
After treatment, the body needs three days to properly eliminate fat and toxins. Therefore, I always recommend that customers use cavitation RF treatment every three to five days. For most clients, I recommend at least six to ten fat cavitation treatments to get the best results.
Specification
Unoisetion 40K Cavitation Probe
Frequency:40KHz
Power:20W
Sextupolar 3D RF for Body
Frequency:1MHz
Power:40W
Quadrupole Vacuum RF
Freqeuncy:1MHz
Power:45W
Vacuum: <-80kPa
Pressure: >250kPa
Air flow: >10L/minute
Noise level: <70dB (30cm away)
Quadrupole 3D RF for face
Frequency:1MHz
Power:25W
3D Bipolar RF
Frequency:1MHz
Power:12W
Light wavelength: 635nm ~650nm
Power of each light: 5mw
Energy output :64 x 5mW =320mw ( 6 big pads *10 light/each+2 small pads * 2 light/each)
Mains power output: 100VA
Power supply Input:100V-240V
Power :190W
Net Weight: 8.10 kg
Gross Weight : 9.20 kg
Dimensions: 450 x 430 x 270 (mm)
Package Including
1 x Host
1 x Unoisetion 40K Cavitation Probe
1 x Sextupolar 3D RF Head
1 x Bipolar 3D RF Head
1 x Quadrupolar 3D RF Head
1 x Quadrupole RF with Vacuum Head
6 x Big paddle with 10 lights //5MW Each (Total 10 *6*5mw=300mw)
2 x Small paddle with 2 lights //5MW each (Total 2*2*5mw=20mw)
1 x Holder
1 x Power Supply Cord ( Both 110v and 220v voltage (frequency: 50/60Hz) version are available. Also we stock the USA, UK, AU, EU plug to suit for the country all over the world.)
?